Greenstar Newsletter
---
Middle East Pilot Installation
December 18, 1998
Click here for some detailed demographic and economic facts
about the West Bank (Palestine), the site of the
first Greenstar installation.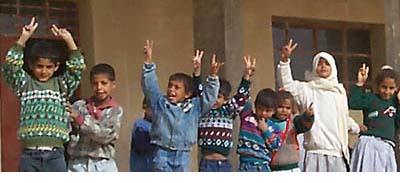 A 10-page version of this press material, including
photographs, may be downloaded here.


(approx. 3 Mbytes; requires Adobe Acrobat)
---

What is unique about this event, and about the Greenstar installation at Al-Kaabneh?

The installation of components of Greenstar in the village of Al-Kaabneh marks a number of "firsts" in the combination of solar energy and allied technologies.
This will be the first combination of solar and wireless, real-time, two-way communications for a rural population, aimed at improving the quality of life and at local wealth creation.
It will be the first solar-powered wireless communication link that uses the Internet to network a rural population to urban areas, and to international sites.
It marks introduction of the global "Greenstar" brand, which is characterized by the use of clean, renewable energy to generate local revenues, and concentrates on producing economic independence as opposed to fostering a dependence on international aid.
---


First-day installation photos from Al-Kaabneh. Click on the photos to see detail, and get reproduction-quality images.

---

Where is Al-Kaabneh? What is it like, and who lives there?

The town is located within Hebron District, about 40 km. southeast of the city of Hebron, 15 km. east of Yatta. 120 houses are distributed right and left of an asphalt street, 10 km in length. Most houses are built adjacent to each other in small groups of five homes. Drinking water comes from a cement storage tank. The inhabitants earn their living through raising cattle, tending herds of sheep and goats, and in growing wheat and barley; some residents also work in nearby Israeli settlements.

Al-Kaabneh has about 2000 residents; there are 86 children attending a small elementary school. The village at present has no electricity, and no running water, and there are no plans to bring conventional electric service to the town.

The settlement is also referred to as Arab Al-Kaabneh and Arab Kaabneh. See the attached map.

Where will Greenstar be installed, specifically? Who will run it?

The system will be installed on the grounds of the school and clinic, which are are about 50 feet apart. The water purifier is being installed in the school for the children's drinking water; the vaccine refrigerator will be used by the clinic. There is a teacher in the school to operate the computer and internet communications set-up.

Ongoing operations support is being funded by the United Nations Development Programme. Local logistics and management will come from the Palestinian Energy Authority, and from the village authorities themselves; a written agreement on sharing of responsibilities has been signed by the PEA and the President of the Al-Kaabneh village council.
---


Photos taken on the day of installation. Click on the photos to see detail, and get reproduction-quality images.
---

How much electrical power will be produced by the solar array? Is it enough for the whole village?

20 kilowatt-hours per day of electricity will be produced by the pilot Greenstar solar array. This is the amount of power used by an average American urban home. It is more than one month's electricity for a rural home. The power from Greenstar will be shared among several systems used by the entire community of Al-Kaabneh, including a water purifier, vaccine cooler, a digital cellular antenna for access to data networks, a radio amplifier, recorder, TV, computer, fax and copying machine.

This pilot installation is not intended to supply the basic electrical needs of the population. To accomplish this, according to an October 1998 study by the Palestinian Energy Authority and EcoPeace, a total of 80 kilowatt-hours would be required.

Are there other Palestinian villages similar to Al-Kaabneh, which may also need Greenstar solar centers?

According to a study by the Palestinian Energy Authority and EcoPeace in October 1998, titled "Middle East Solar Energy Zone Project, a Scientific, Economic and Sociological Feasibility Study"', there are more than 75 villages, towns and settlements in the West Bank, ranging in population from under 100 to 10,000, which currently have no regular electrical power from a public utility. They are identified as possible beneficiaries of solar power; the total affected population would be more than 80,000 people. See the attached chart for details.

The study was conducted by Mr. Ghalib Shanti - Solar Energy Engineer and Dr. Marwan Mahrnoud of the Renewable Energy Research Center, chartered by the Palestinian Hydrology Group, Shu' fat-Jerusalem.
---


Photos taken on the day of installation. Click on the photos to see detail, and get reproduction-quality images.
---

What's next for Greenstar?

The next Greenstar installation is planned for India (where systems have been ordered, and scheduled for delivery in spring, 1999). The group also plans to investigate how Greenstar may serve "First Nation" peoples in the US Southwest and Alaska, and may provide assistance in the ongoing recovery from Hurricane Mitch in Central America.

In February, 1999, preliminary results of the Al-Kaabneh pilot will be announced by the Palestinian Energy Authority, the United Nations Development Programme and Greenstar.
---


Photos taken on the day of installation. Click on the photos to see detail, and get reproduction-quality images.
---

Complete information available at http://www.greenstar.org .
Press releases at http://www.greenstar.org/pressroom/releaseindex.htm