SMDS Cellular Communications

---
SMDS (Switched Multimegabit Data Service) is a means for many different kinds of computers to communicate with each other at high speed, over public networks like the Internet.
This accepted international standard works best when there are bursts of high-density traffic, like video and audio, which require two distant systems to be kept "in synch", tightly co-ordinated. Ity also is well-suited to multi-point communications, where many people need to receive the same digital data and participate in it, for example in video teleconferencing. Finally, SMDS integrates cleanly with existing local-area networks, creating a wide-area virtual connection that can be worldwide if necessary, running at many different data speeds on a variety of compatible equipment, wiring and wireless transports.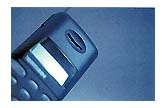 Recent applications of SMDS on directional digital cellular networks have proven particularly successful for high-speed communications over large distances, where wiring, optical cable or microwave communication is not available. In Israel and the Middle East in general, SMDS Cellular is well-understood.
definition from http://www.whatis.com
SMDS (Switched Multimegabit Data Service) is a public, packet-switched service aimed at enterprises that need to exchange large amounts of data with other enterprises over the wide-area network on a nonconstant or "bursty" basis. SMDS provides an architecture for this kind of data exchange and a set of services. In general, SMDS extends the performance and efficiencies of a company's local area network (LANs) over a wide area on a switched, as-needed basis.
SMDS is connectionless, meaning that there is no need to set up a connection through the network before sending data. This provides bandwidth on demand for the "bursty" data transmission typically found on LANs.
SMDS packets contain up to 7168 bytes of data, which is large enough to accept the most common LAN packets. Each packet includes the source address and the destination address and is sent separately from other packets.
Each enterprise using SMDS is assigned from one to sixteen unique SMDS addresses, depending on needs. An address is a ten digit number that looks like an ordinary telephone number.
SMDS also provides for broadcasting packets to multiple SMDS addresses. Each SMDS company is assigned one or more group addresses that can be used to define destination groups. Group addressing is similar to LAN multicasting. It lets routing protocols, such as TCP/IP, use dynamic address resolution and routing updates.
Since SMDS is a public service, any SMDS customer can exchange data with any other customer. The SMDS Interest Group, an association of service providers, equipment manufacturers, and users, develops technical specifications, promotes awareness of SMDS, stimulates new applications, and ensures worldwide service interoperability, working with its international affiliates. Their home page provides a list of companies providing SMDS services.
SMDS Fastrak
from Pacific Bell
Advantages
Packet network reliability
Security-closed user's group
LAN-like performance
Bandwidth-on-demand
Logical fully meshed connectivity
Easy add-and-drop capability
Inter-enterprise communications
Cost-effective applications for multiple locations within the service area
Support for multiple protocols (TCP/IP, IPX, etc.)
Smooth migration to ATM-based services
Applications
LAN interconnection
CAD/CAM
Virtual reality
Teleradiology and telemedicine
Large file transfer, including images and multimedia files
Collaborative prepress, printing, and publishing
High-speed access to the Internet/World Wide Web